Hello there, lovelies! I could not resist but joining this months Mixed Media Monthly Challenge blog´s challenge #24. Such a fun challenge! See for yourself:
I chose to create ATC cards (a set of 4 actually) and I used both butterflies and blooms on them. I named this set "English Roses" because of the color combination I used. I kinda got inspired by this photo of a flower store in Richmond on our stay in London, such lovely flowers and colors in there.
These are the ATC cards, I am joining this months challenge with. I have added book paper, ink splatters and drippings and punched, spray inked punched butterflies (Glimmer Mist by Tattered Angels). Underneath it all is a light blue flower stencil (The Crafter´s Workshop) pattern, created with a paste that I mixed from chalk paint and transparent texture paste. On top, a rolled DIY fabric flower (rose?) and some yarn.
I only had enough fabric for three DIY flowers, so I took some paper flowers from my stash for the fourth one.
Creating these ATC cards was again combined with some lovely chatting with scrappy friends via Skype. Do you scrap with your friends online? We do. And it was my turn to come up with a challenge, so I asked them to use flowers and butterflies and a book page on their projects (and how practical, most of that just happens to match the Mixed Media MC challenge – so I am hoping they will be joining in this months challenge too with their creations). And since we now all created ATC cards, we will be swapping with each other.  Always great to get real mail!!!
And since I am allowed to join in on additional challenges too, I´m adding these ATC cards to the Simon Says Wednesday Challenge from the 25th of May, 2016: Anything goes.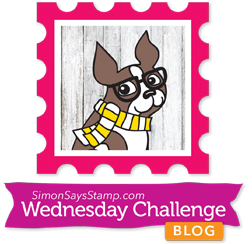 I´ve never played along with them yet – there is always a first time for everything, right? 🙂
Happy creating,
xxx, Sanna
For some of the used product, look for these links:
Tattered Angels Glimmer Mists
The Crafter´s Workshop stencil
Imagine Crafts texture sprays
Paper Artsy Paints
Dylusions pens
Liquitex Titanium White Ink!